Body maps have been used in occupational health (and other) work for many years. Often associated with individual assessments of musculoskeletal injuries or disorders ("aches and pains" on the illustrations below), starting in the 1990s, they were used to provide collective pictures of various symptoms. (Interestingly, it seemed that this started with U.S. four groups in which women provided workshops and/or leadership.)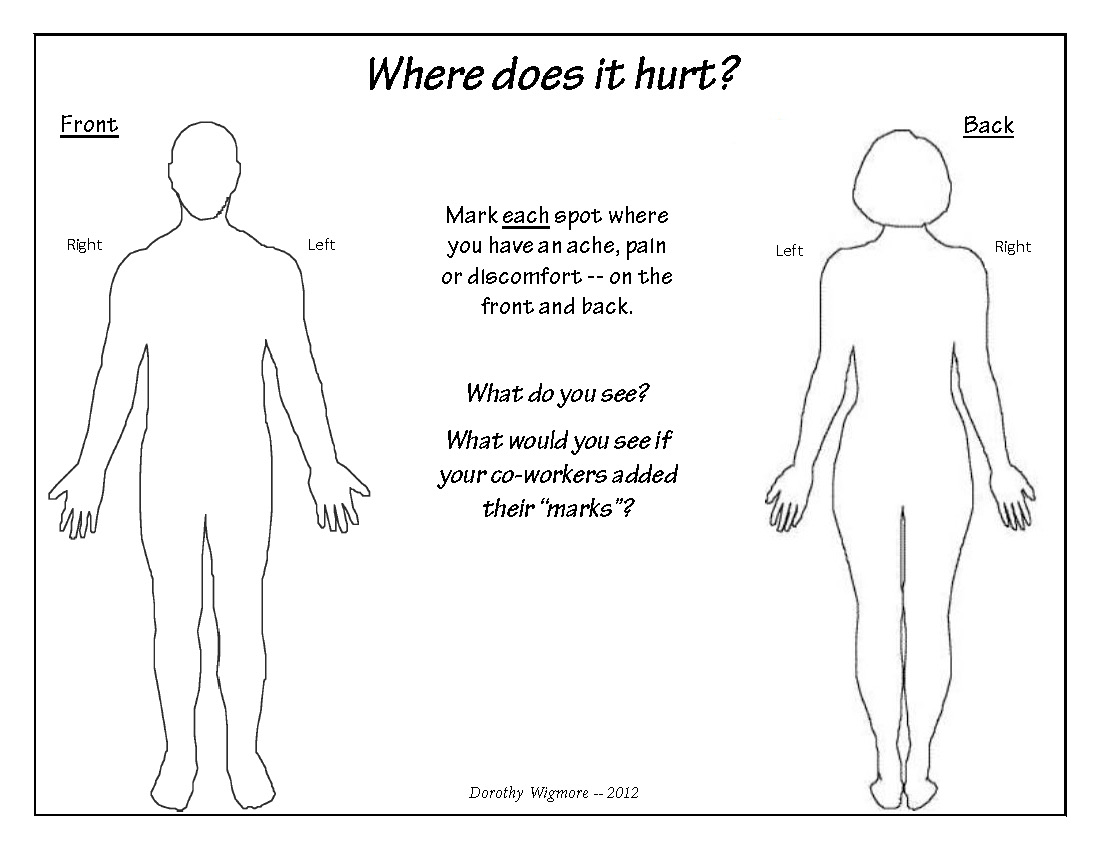 As a pioneer of the method, I have used body maps to get at a wide variety of job-related symptoms, starting with mostly-male construction workers and mostly-female health care workers. The tool is now commonly used around the world, thanks to the U.K. 
Hazards
 group.
Typically, there are three categories: aches and pains, where "stress" shows up in your body and other symptoms. People either use a prepared outline or draw the figures. For the latter, the instructions are basically:
1. In your group, use a black or brown marker to draw the front and back of a body, using one flip chart for each; label them front and back.
2.  Use the coloured markers  to keep track of each question.
Where do you have aches and pains? (whether they work-related or not)
Where does stress show up in your body?
What other symptoms do you have? (e.g. rashes, respiratory symptoms, allergies, cuts, burns)
3. There should be one mark for each spot for each person (i.e. if three people have right shoulder problems, there should be three red dots on the right shoulder).
4.  What do you see? What's missing? (This gets at longer-term or chronic effects, including cancer, reproductive effects, lung and other diseases.)
See the example for one result: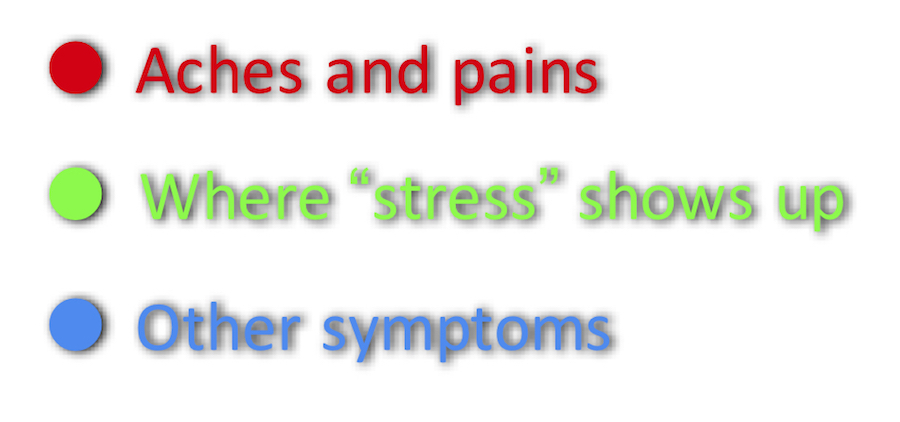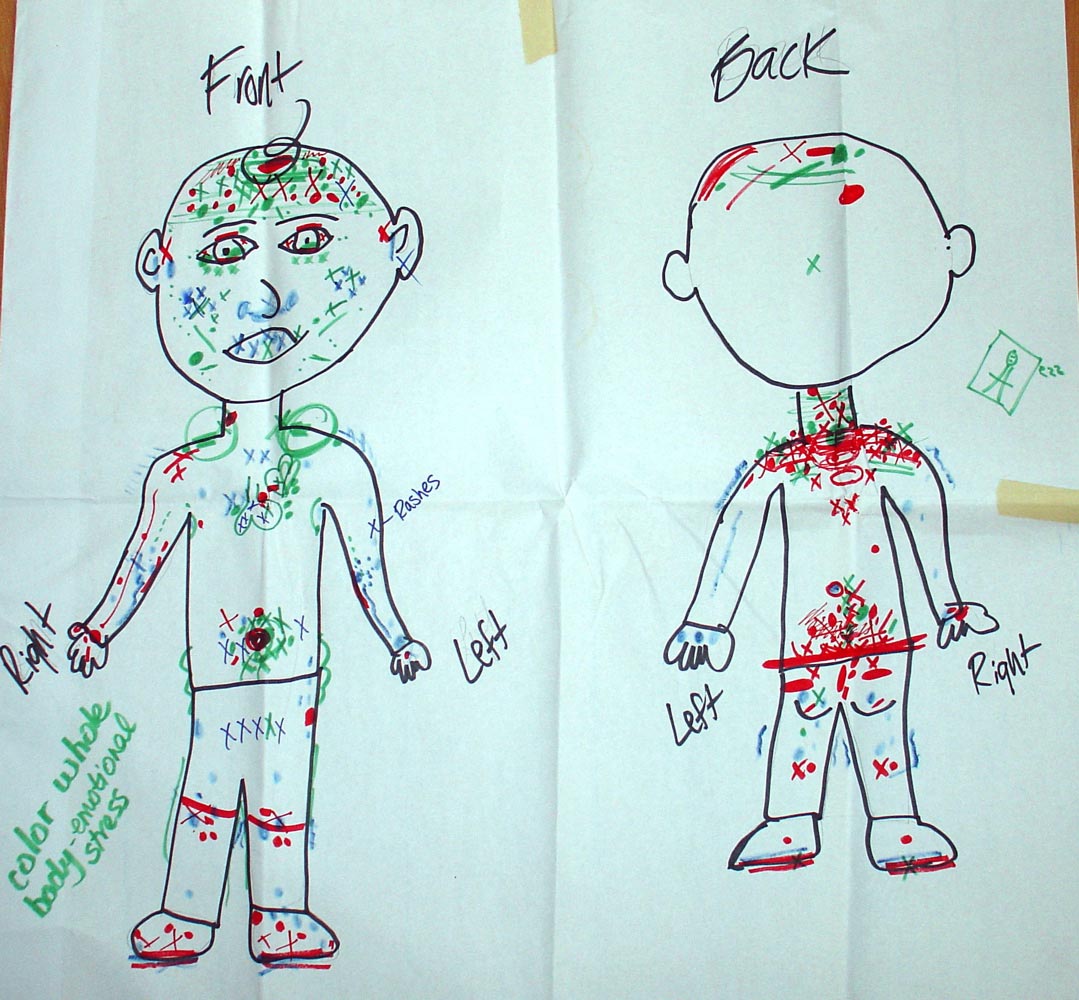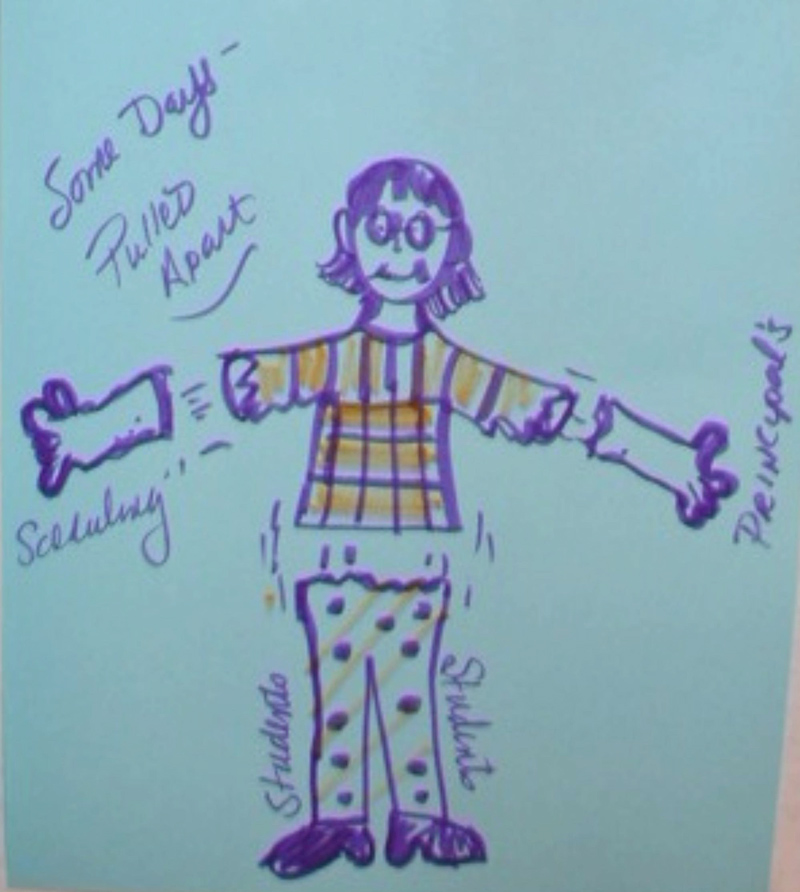 At other times, body maps can be used to do what Margaret Keith has called "Map your world". It's about drawing how your life is affected by your job.
Asked that question in a workshop about "stress", education workers produced evocative drawings. One used it to describe how she felt pulled apart by various things. (See at left) In a session with construction workers, one used a broken heart to indicate how he ended up divorced, connected to his job.
The Hazards group has more information about "Your world" mapping here.
Body maps can be used in many ways.
For example, I used layers to compare the results of healthcare workers reported symptoms with what the provincial workers' compensation board reported for accepted claims, by body part. The added layer of black dots represents the percentage of workers' compensation claims by body area for the previous year.
Note the huge difference between neck, shoulder and feet claims and workers' symptoms.
In another setting — a workshop about ergonomics for construction workers — the group used a prepared body map to mark their aches and pains. The added layer of black dots showed the results of a study of 96,000 Swedish construction workers, adjusted for a group of 25. Dots were divided evenly for the left and right. It showed the workers that their symptoms were not unique; they were typical of people doing that kind of work.
As one 40-something man said in the evaluation of the third ergonomics class I did for Operating Engineers in the Boston area, "This is the first time I've known I'm not alone in my pain." The body map gave him "new eyes" to see he had reason to link his aches and pains to his work, and to find others with whom to work to make changes to prevent them.
The same was true when a Northern Ontario worker looked at the "dots" that he and other injured workers put on a body map.
First, they used a coloured dot for each spot where they were first hurt. (There were different colours for men and women.) Each person had a number, which went on the dot. The same number was put on another set of dots that answered the question: Where do you have pain now?
Asked what he saw, the worker said that, for the first time, he saw that he (and others) had chronic pain, and he had to do something about it.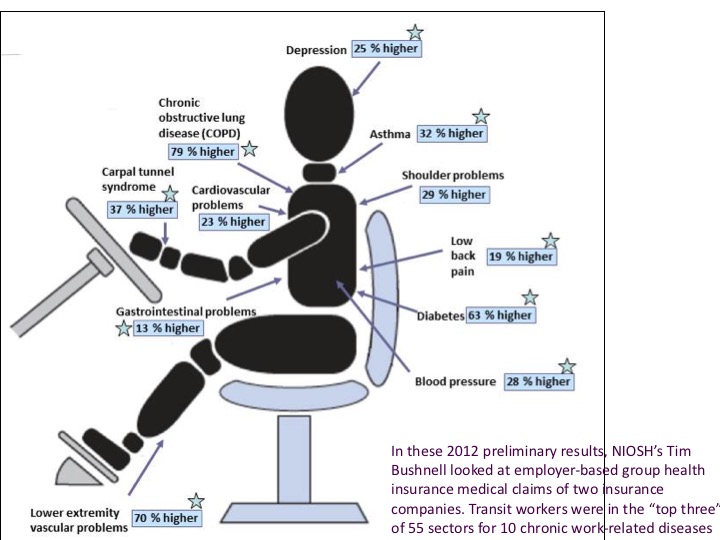 Amongst others, I introduced the tool to occupational health clinic staff and researchers who used it and 
workplace mapping
 in academic studies of casino 
workers
 and former 
asbestos workers
 and their families. Turning that around, I borrowed a bus driver body map from the U.K. and used it to present the results of a study about the health effects of doing that job in the U.S. It's yet another way to use body maps for research and reporting its results.